Jasper Meiners
@jaspermeiners
I work as a freelance game engineer and technical artist on commissioned and personal projects, most of the time as part of Studio Topicbird. Below you can find some of the public projects I have worked on over the past years.


What I can offer you:
10+ years of experience working with Unity and C#
development of editor tools that improve teamwork and workflow
unique game aesthetics using Unity's ShaderLab and ShaderGraph
working with Augmented Reality and Virtual Reality hardware
performance optimization of shaders and C# scripts
a strong foundation with many other aspects of game development including design, audio and visuals
Portfolio
Paradigm Shell
In Paradigm Shell, you are the only one left on an oil rig that was cleared by the military. Soon, you notice that the oil puddles change shape, plastic objects disappear and machines behave in strange ways. To save yourself and your crewmates' research you have to collaborate with the mutating materials.

The game's prototype development has been funded by the German games fund and is currently in pre-production. I developed the core game mechanics, the weather and audio systems, and the stylized visuals.
SHI•RO: Midori
Midori, sequel to the award-winning puzzle game SHI•RO, tells the wondrous story of priest Yoshida. Together, you leave home and bring back hope to the people of Kyoto. Travel through dark forests to invite the ancient gods, the Kami-sama, to Yoshida's shrine. Solve challenging, handmade puzzles by placing emptiness in between maple trees to the Kami-sama. Animal messengers of the gods will cross your way and offer their help. Learn Japanese words from them and whisper with the wind.

Midori will be released on the Apple App Store in July 2022.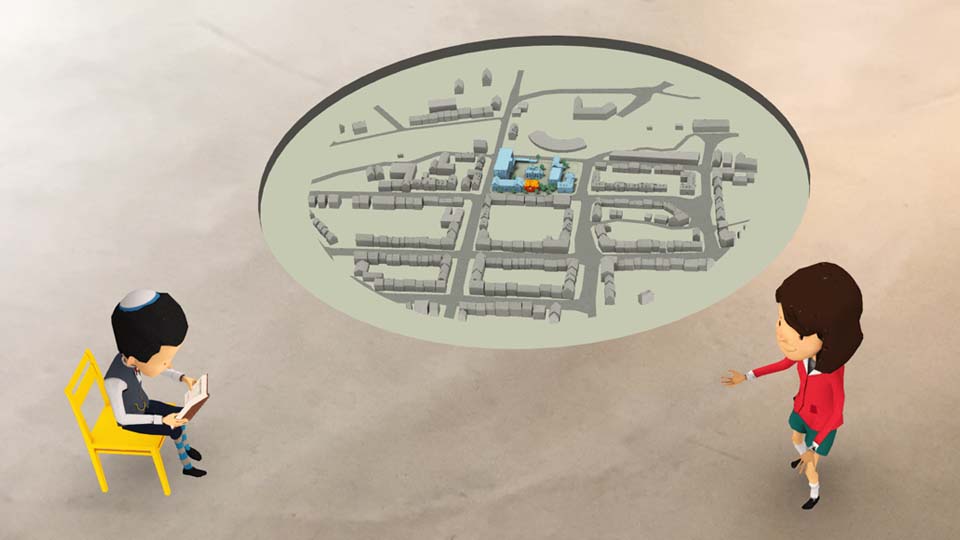 Operation Legendary
The setting: Students from the Judeo-Christian Jacobson School in Seesen have come up with a prank designed to make their school known all over the world. Their adventure takes them all across the school, over the synagogue's roof and into the lion's den, the headteacher's office.

I was the lead developer on this AR app developed by beamXR. My tasks included creating the core gameplay loop, writing the AR code base (using AR Foundation), and implementing a visual language that uses portals to unfold a paper-crafted 3D world. The project was funded by the Federal Ministry of the Interior, for Building and Community, the Ministry of Economic Affairs, Labour, Transport and Digitalisation of Lower Saxony, and the Town of Seesen, Germany.
Sartorius Showroom & Brandspace
In 2020, the Sartorius campus in Göttingen received a new physical space consisting of a showroom and a brandspace.

I was hired to develop 4 apps that are used in the showroom to display video, picture, and audio information about products that are produced by Sartorius. The apps get updated from an internal database automatically overnight.

Before the construction of the physical brandspace was completed, I helped create a virtual conference software that allowed people from Sartorius, as well as clients, to meet in the new rooms already and test out its interactive elements. This was done by implementing a 3D model of the brandspace in Virtual Reality and writing an online multiplayer framework (using Photon) that allowed for voice chat and complex avatar communication.
International Art Exhibition
Our team at Topicbird worked with universities, museums and institutions to realize historic art exhibitions in Virtual Reality. Visitors were able to teleport through the rooms by using an integrated map, and get additional information by using the hand controllers. We also developed tools for researchers to place photographs and other exhibits on the walls and decorate them with procedurally generated frames.
Minimal Mountain
Minimal Mountain is a small, personal project of mine that challenges you to defend the top of a hill by growing berries and building a home for your people. But beware of the evils that lurk underground! This minimalist strategy game will keep you busy, turn by turn.
SHI•RO
SHI•RO is a game for iPhone and iPad that uses gyroscope technology to bring art to life in a player's hand. Gold and silver on coated darkness shimmer in your hands while you move your iPad or iPhone. Based on a real ancient story, the game tells the tale of a curious empress, a lost love and a blossoming friendship.

In over 60 handmade puzzles, you connect golden moons to separate the sea from the sky. Each level transforms your device into a beautiful Japanese lacquer box, which you need to think outside of! To engage with SHI•RO's story, you have to find the golden elements in the game's handdrawn illustrations. Taiko drums lead your way from one star constellation to the next, puzzle by puzzle, word by word, further in time.
The Internet Restroom
For the duration of one year, the Internet Restroom was established as a place of exchange on the web, to be freely embedded into existing websites.

Players were able to enjoy the amenities of a fully functional restroom where actions such as switching on lights, using a hand dryer or opening a toilet lid could be witnessed by other players online, as if moved by a ghostly touch.
Klick Hüpf Guck
A game set in the fantasic and research-based work of the Brothers Grimm, that was commissioned by and exhibited on the website of the Grimmwelt museum in Kassel, Germany.

Players journeyed through 6 paper-crafted sets that show different aspects of the brothers' interests. In each of them, finding a letter note gave a hint towards the pieces on display in the museum. The game was designed to be easy and fun to play within in about 5 minutes.